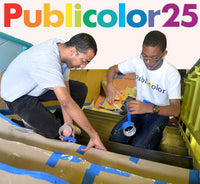 Publicolor
Publicolor is a stay-in-school youth development program that engages disaffected students in their education 3 days a week for 4-6 years through a continuum of design-based programs that mentor them for success in school, college, career, and life. Our support directly contributes to college scholarships for students studying art + design.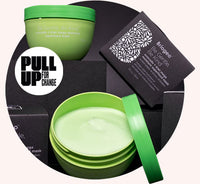 Pull up for Change - Make It Black
We proudly participated in the Pull up for Change - Make It Black campaign, transforming our fan-favorite Avocado + Kiwi Mega Moisture Superfoods Mask into black packaging for a limited time. 100% of net proceeds from this hair mask went to the Pull Up for Change impact fund, directly benefiting emerging Black entrepreneurs.
Move with Purpose
We proudly partnered with Move with Purpose, a non-profit club that supports the Black community through fitness and donations, to create a 14-day workout routine for the Briogeo community that also gave back. Our donations supported the Center for Black Women's Wellness in Atlanta, a community center that provides underserved Black women and their families with services to improve their health and well-being.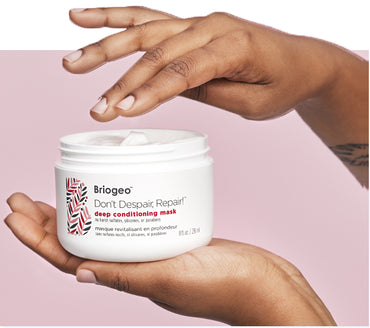 Silicones—a common ingredient found in beauty products for added slip and shine—not only prevent hair from absorbing essential nutrients, but they are not biodegradable. These hydrophobic polymers wash down our drains, quickly break down into the oceans, and harm aquatic wildlife. We formulate all of our products silicone-free to protect your hair and our environment.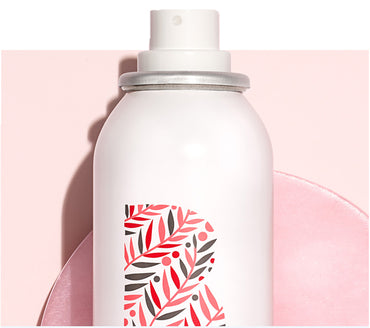 All Briogeo products are aerosol free for environmental reasons. One reason is recyclability. Traditional aerosol bottles have complex workings which make them very difficult to recycle. In addition, the synthetic propellants are detrimental to the ozone layer and with long lasting impacts.
We do not formulate products with the use of microplastics, like microbeads (tiny pieces of manufactured polyethylene plastic that are added as exfoliants). These tiny particles easily pass through water filtration systems and end up in the ocean and Great Lakes, posing a potential threat to aquatic life. Instead we use plant-based exfoliators in products like our Scalp Revival™ Scalp shampoo.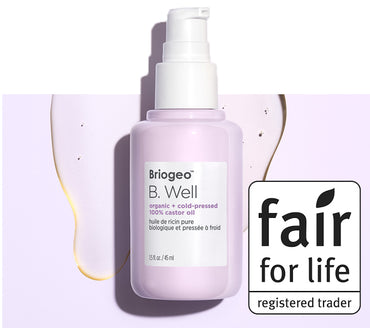 Ethically sourced + manufactured products
We formulate our B. Well Organic + Cold-Pressed 100% Castor Oil with ethically sourced castor oil that's cold-pressed to maintain its natural potency. It's also Certified Fair for Life, a label that safeguards human rights at all stages of production, ensures workers enjoy good and fair working conditions, and that smallholder farmers receive a fair share.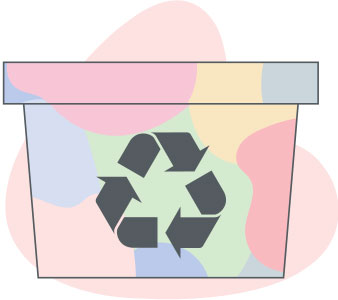 All of our product bottles, tubes, jars, and caps are 100% recyclable, helping to reduce the amount of unnecessary trash in landfills. Read our guide below on how to properly recycle our beauty product containers.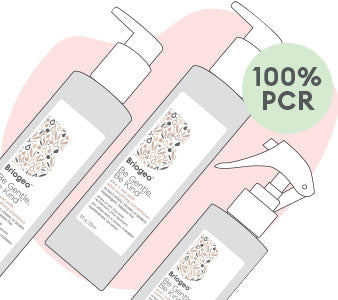 Give materials a second life
All of our HDPE (High Density Poly Ethylene) bottles are made with a minimum of 25% PCR (post-consumer resin)—some are even 100%! We're currently working on a plan to increase the percentage of recycled content used in our packaging.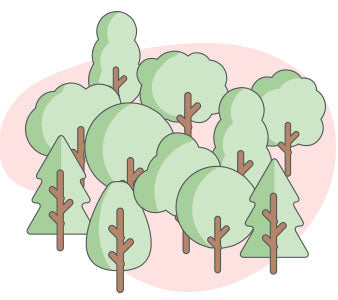 99% of our secondary packaging + boxes are certified by the FSC (Forest Stewardship Council), which ensures our materials come from responsibly managed forests that respect the local environment. Our secondary cartons all use Neenah paper, which is biodegradable/ compostable, and 100% of our boxes are recyclable.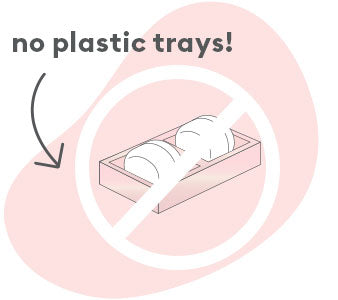 As of 2021, we've fully removed plastic trays from all of our hair care kits… and we're constantly coming up with more ways to improve!
Jars
Like our:
Don't Despair, Repair!™ deep conditioning mask
Scalp Revival™ charcoal + coconut oil micro-exfoliating shampoo
Curl Charisma™ rice amino + avocado hydrating & defining mask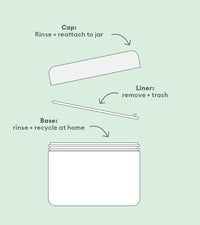 Bottles with caps
Like our:
Blossom & Bloom™ ginseng + biotin shampoo + conditioner
Farewell Frizz™ smoothing shampoo + conditioner
Briogeo Superfoods™ shampoo + conditioner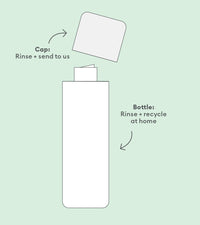 Bottles with pumps
Like our:
Don't Despair, Repair!™ deep conditioning mask jumbo
Scalp Revival™ charcoal + coconut oil micro-exfoliating shampoo jumbo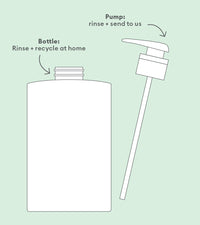 Bottles with sprayers
Like our:
Blossom + Bloom™ ginseng + biotin volumizing spray
Farewell Frizz™ rosarco milk leave-in conditioning spray
Be Gentle, Be Kind™ aloe + oat milk hypoallergenic detangling spray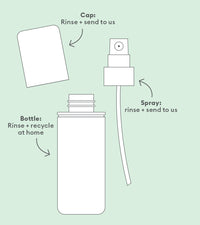 Flexible Tubes
Like our:
Curl Charisma™ rice amino + avocado leave-in defining crème
Scalp Revival™ charcoal + tea tree cooling hydration scalp mask
Farewell Frizz™ blow dry perfection & heat protectant crème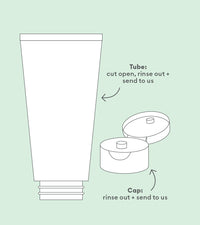 Bottles with droppers
LIke our Scalp Revival™ charcoal + tea tree scalp treatment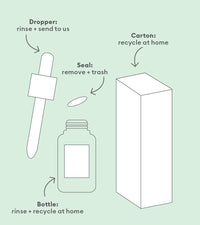 Bottles with caps
LIke our:
Don't Despair, Repair!™ strengthening treatment oil
B. Well vegan omega 3,6,9 + biotin supplements for healthy hair
B. Well organic + australian 100% tea tree oil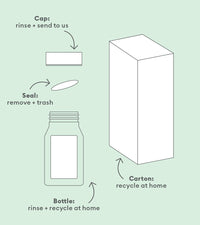 Dry Shampoo
Like our Scalp Revival™ charcoal + biotin dry shampoo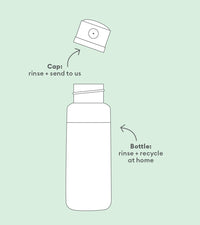 Aluminum can with sprayer
Like our Don't Despair, Repair!™ strength + moisture leave-in mask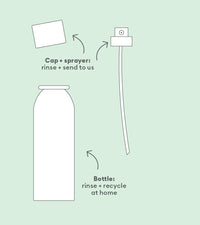 Boxes + fill
Break down + recycle at home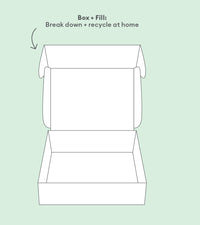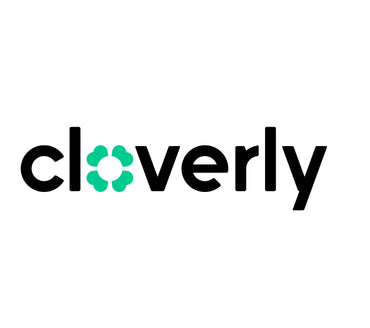 We give you the option to make your delivery carbon-neutral—and it's typically less than $1 per purchase!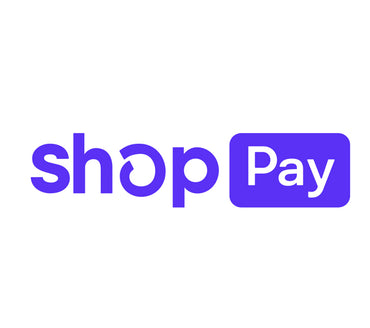 By offering this eco-friendly pay method, when selected, each purchase automatically helps our community plant trees (at no additional cost!).