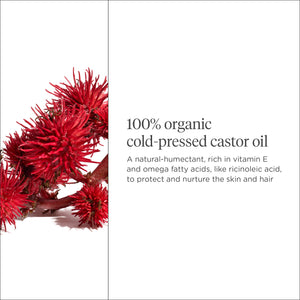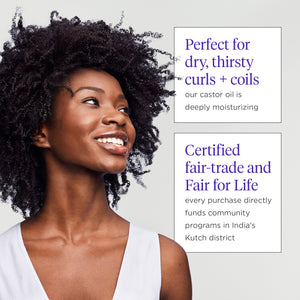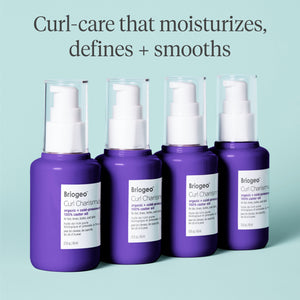 Curl Charisma™
100% Castor Oil
1300
Item has been added to your cart.
Who It's For:
For those looking to nourish and fortify eyebrows, eyelashes & hair and those looking to moisturize severely dry skin and hair. Hair types: straight, wavy, curly and coily.
What It Is:
This organic and fair trade certified castor oil from India is naturally cold-pressed, meaning it contains the highest amount of nutrients and trace minerals originally present in the seed after it has been picked.

Why Fair Trade Matters

Ethically and sustainably sourced ingredients mean a lot to us, even if it costs more. The organic castor oil selected for B. Well Organic + Cold-Pressed Castor Oil is certified fair-trade and Fair For Life, meaning our investment here is placed directly back into the community of India's Kutch district. Recent improvements include building more schools that allow children education beyond primary level, supporting infrastructure by building ponds on local farms and repairing wells, and helping the environment by planting more trees. Clean, Conscious Ingredients. We like that!

Cold-Pressed Purity

Cold-pressed castor oil is a cushiony, natural-humectant extracted from castor bean seeds, rich in essential fatty acids, nutrients and minerals. Cold-pressing the seeds maintains the integrity of the oil to preserve the nutrients and trace elements originally present in the seed after it has been picked. Alternative methods include steam, heat or chemical extraction processes that can can introduce impurities into the product and reduce the efficacy of the natural oil.
Safe For:
Color treated, keratin treated, chemically-treated, and relaxed hair.
What It Does:
A cold-pressed, organic castor oil that deeply nourishes, hydrates, and conditions to promote healthy, lustrous hair, eyebrows & eyelashes and glowing skin.
How To Use:
The B. Well Organic + Cold-Pressed 100% Castor Oil can be applied to the skin, hair & hairline, eyebrows and eyelashes on its own or added to any Briogeo conditioner for a hair reparative boost.

Ideal uses include: nurturing eyebrows and eyelashes, nourishing the hairline, taming flyaways, hydrating elbows, and conditioning cuticles.

For Eyebrows - Place a small amount of the organic castor oil on a q-tip or mascara wand ( a little goes a long way ). Apply to only one eyebrow at a time. Start at the point of your eyebrow closest to the center of your face and apply the oil in the direction your eyebrow hairs naturally lay. Then, apply the oil in the opposite direction ensuring the eyebrow is saturated with the oil in both directions.

For Eyelashes - Place a very small amount of castor oil on a mascara wand. Start at the base of your lashes and apply through the ends of your lashes. Be sure to only apply a small amount to avoid contact with your eyes.
Precautions: Avoid contact with eyes. Do not ingest. For external use only.
Organic Ricinus Communis (Castor) Oil
The oil is rich in humectants, Vitamin E and Omega fatty acids. Humectants maintain and retain moisture by preventing water loss through the outer layer of the skin and lubricate the hair shaft, increasing flexibility and decreasing the chance of breakage. Vitamin E is a powerful antioxidant and intensive conditioning vitamin that provides essential healthy-hair nutrients, and soothes & protects the hair and skin. Omega 6 & 9 fatty acids boost hydration and nourish hair follicles, encouraging healthy, fuller hair and and glowing skin.
Fair Trade
Cold Pressed
Silicone Free
Paraben Free
Sulfate Free
Cruelty Free
Vegan
"The brand cuts out the steaming and chemical extraction processes...and opts for cold-pressing to deliver an oil with the maximum amount of nutrients possible."
Natural,
powerful results.
Product Reviews & Questions